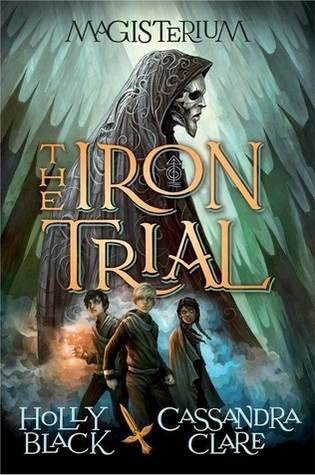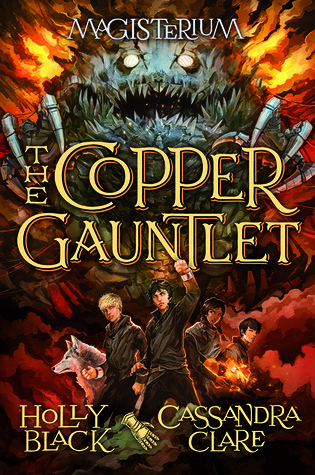 I really should give a shout-out to the youth services librarian at my local branch--I told her of my literary itch (as referenced in the last post) and she recommended the above books:
The Iron Trial
and
The Copper Gauntlet
by Black & Clare.
I adored The Mortal Instruments when they first came out--the world-building and plot were divine, the characters intense. The only thing that lost me was the tangled romantic situation around Jace and Clary. Then Clare inexplicably chose to continue the series. I tried
City of Fallen Angels
and hated it. As for Holly Black, I tried The Spiderwick Chronicles, but they were too dark for me. (I won't read Lemony Snicket either and YOU CAN'T MAKE ME. Nyah nyah. So sue me, but I like a good HEA. Or at least a smidgen of hope and uplift in a book. ANYWAY.) I did like
Geektastic
, so there's that.
I'M GETTING TO MY POINT.
I knew that Black & Clare were queens of urban fantasy, which is what I wanted, but I didn't want dark and hopeless. (See ever-so-mature parenthetical rant above.) So, on the librarian's advice, I gave the Magisterium series a shot.
The Iron Trial
was hard for me. It's a good read--compelling and interesting--but it hits every. single. beat. that makes Harry Potter the character he is. I would be specific about these points, but I don't want to spoil the story. In the notes I made after reading the book, I have: "ALL PLOT POINTS BELONG TO HP.
ALL.
" Done well, no harm, no foul. But this was so BLATANT.
HOWEVER. (There is an excess of all caps in this review. Forgive me, but they are necessary to convey ALL THE EMOTIONS.) There is *just* enough different about Callum and the magical world he inhabits that I had high hopes for
The Copper Gauntlet
...and I was right. THANK GOODNESS. The plot takes a left-hand turn that I didn't see coming right at the beginning of
Copper Gauntlet
that made all my frustration with
The Iron Trial
worthwhile.
Copper Gauntlet
left all vestiges of Harry Potter behind and forged its own path, asking questions about how far to trust authority and other people's assertions and all that you think you know about yourself--ripe questions that all adolescents really want to know the answers to as they start to form their own independent worldviews.
Overall, I think that this will be a journey worth taking. Rough start (for me, anyway), but worthwhile to see what Callum and his friends get up to and who the true villain is and how all this elemental magic will work and how it will be *new* and *different* from magical systems I've read before. I love a good coming-of-age series and I think that Magisterium will be an excellent one.
Gentle Reader Alert:
I found nothing of concern.